AC20
2.0kW Portable Industrial Spot Air Conditioner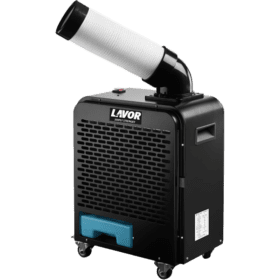 The AC20 2.0kW Portable Industrial Air Conditioner is the smallest unit in the Lavor range of portable air conditioners but can still pack a punch.  This makes it the perfect unit to be used where a small to medium area needs to be cooled or a specific equipment which needs to be kept at a cool temperature.
These units come standard with flexible and detachable air vents with the ease of use removable and washable filters.  Like all units, this model has a removable water container while also being fitted with a fixed drainage nipple option to use if the Air Conditioner is not going to be moved much.
The AC20 has a refrigerating capacity of 2.0kW while running on 240V power with a max power input of only 3.2Amps.  A noise level of only 55dB means this does not impact on noise levels in small areas. Weighing in at only 26Kg it makes it the perfect portable unit to be moved around and used where necessary.
NOTE:  These are Industrial Spot Cooling Refrigerated Air Conditioners.