Portable Industrial Air Conditioners
The Lavorwash Portable Industrial Air Conditioners are self-contained units most suited for cooling warehouses, workshops, farm sheds, garage (including man caves) and many other suitable areas.
These hard wearing units are made of galvanised steel with an external powder-coated polyester finish, while sitting on industrial style castor wheels for easy movement to wherever it's needed.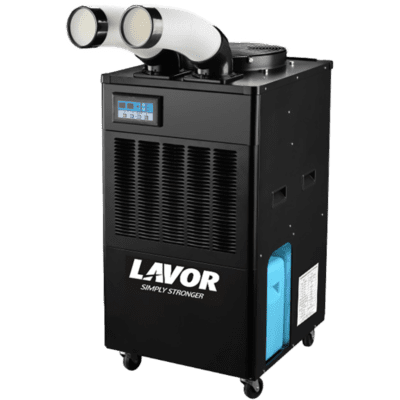 The Portable Industrial Air Conditioners draw in heat through it's fully filtered front (with an easy to clean removable filter), puts it through the condenser, expels the hot air out of one outlet which can be expelled outside, while the other outlet(s) provide the cooling air.  This can recycle through a closed environment (garages, closed workshops or offices) which eventually cools that room efficiently or in an open air area provides spot cooling.
These efficient units are a great solutions for any working area.  With a single outlet 2.0kW version, dual outlet 3.8kW version and a triple outlet 7.1kW version, the Lavor range of Portable Refrigerated Air Conditioners are a great way too cool yourselves down especially during these hot Australian summers.