HYPERT2021 Pressure Cleaner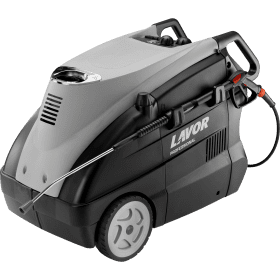 The HYPERT2021 hot water pressure washer is Lavor's heavy duty, top of the range industrial cleaner affectionately nicknamed "The Mother".  The machine comes with a massive 9400W, 3 phase, 4 pole, low revving, 1450 RPM motor.  It runs a 1450 RPM heavy duty pump delivering an incredible 21 litres per minute at an impressive 3000 PSI.  In addition, it comes with a stainless steel coil backed by an industry leading 5 year warranty.
The pump on this pressure washer is a workhorse.   Most of all, it will stand up to a torturous workload washing anything you have to clean. The motor and pump are connected with an elastic joint for continuous heavy use, therefore eliminating the stop and start stress on the connection.
Once you have used this machine to clean anything big and challenging, you will never be the same.
In conclusion, it is truly a beast in relation to performance. If this machine won't clean it, it can't be cleaned!