RHINO150 Brushless Pressure Cleaner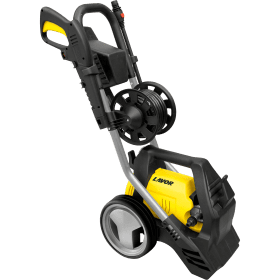 The Lavor RHINO150 high pressure washer is a low duty, domestic cold water machine.  With a low maintenance brushless 2.2kW motor, this machine has a very good delivery of 2175 PSI at 6.5 litres per minute.  The pressure washer comes standard with Auto Stop which shuts off the motor when not in use.
The RHINO150 is a good all purpose machine for the home with plenty of accessories.  The accessories include a standard 8 metre reinforced hose, variable spray lance and turbo spray lance.  Storage is at a premium with this machine as an onboard hose is also standard.
Optional accessories include a patio cleaner, rotary soft brush and fixed soft brush.
This is a great machine for the home with most cleaning jobs covered by this one machine with all its accessories.
DISCLAIMER:  This machine is a domestic rated machine and should only be used as such.  Any other usage outside of this can possibly void warranty through excessive use.