GV VESUVIO 18 Industrial Steam Cleaner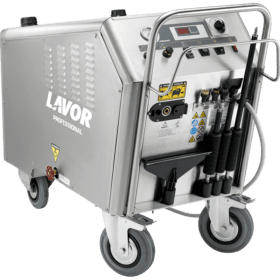 The GV Vesuvio 18 is a fully electric 3 phase industrial steam cleaner, producing 180c steam at 150PSI of pressure.  The machine includes an onboard 25 litre water tank and 5 litre chemical tank, although the machine can be plugged in to water for continuous use.
This machine has a vast array of controls on the dashboard.  With the standard on/off switch, indicator lamp and temperature regulator with digital display, you have full control of the machine within reach.  Safety features are also included featuring a Boiler Activation Key and Gun Activation Key meaning "accidental" use is not possible unless both keys are turned.  The GS Vesuvio 18 also has a timer cycle turn further ensure safety is a priority.
A full suite of accessories is included with onboard accessory holders.  A boiler discharge valve also releases the residual water from the boiler reducing the risks of rust and formation of lime scale, prolonging the life of the boiler.