WALLMOUNT1211 Pressure Cleaner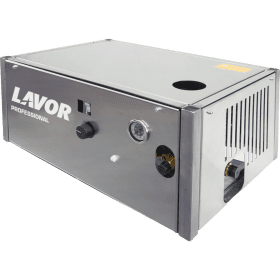 The Lavor Wallmount1211 machine is one of two Professional wall mount pressure washer units presently offered in our "Elite" Lavor HYPER range of machines. This single phase 240V machine offers a flow rate of 11.6LPM at an operating pressure of anything up to 1800PSI.   In addition, it is powered by a four pole, low revving electric motor.
The unit is equipped with a top of the line K7 unloader which gives a zero line pressure when unloaded.  Importantly, this system minimises stress on the machine whilst running. The pump/motor coupling is an elastic joint for shock absorption on start up and stop.  This unit comes in a Stainless Steel wallmount cabinet and offers the user a machine for the long hard yards in heavy use environments such as Automotive Dealership wash bays.