WALLMOUNT2015 Pressure Cleaner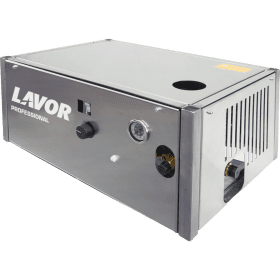 The Lavor WALLMOUNT2015 forms part of our "Elite" Lavor HYPER range offering substantial pressure washers for serious cleaning.  This wall mount pressure washer delivers 15LPM flowrate at 3000PSI and is powered by a 7KW three phase, water cooled motor.
This electric pressure washer has an elastic joint coupling between the motor and the pump.  As a result, it provides shock absorption on start up and stop during heavy use periods.  The Lavor CL5 pump is our biggest and best pump we offer at Lavor.  It really is a tried and tested heavy duty pump which with the coupling joint, offers a very professional machine.
Standard accessories include a heavy duty gun, industrial stainless steel lance and a 10 metre double steel braided high pressure hose.